Happy Diwali 2020: Essential Guide [History, Article, Do's & Don't, Essay]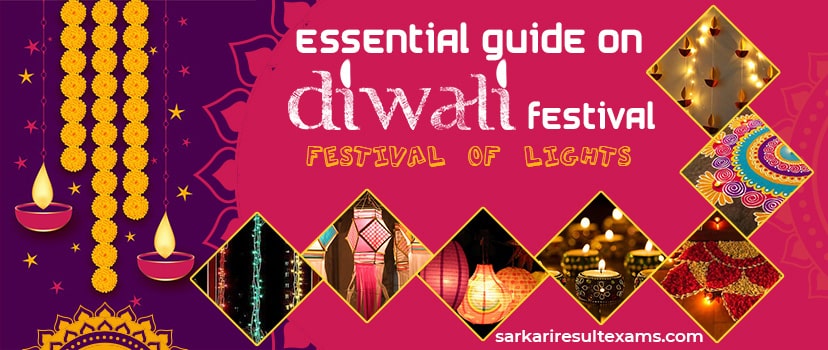 The celebration of India's lights is nothing new and dates back to hundreds and even thousands of years back. All these encourage a sense of compassion and festivity among Diwali, from bursting crackers to lighting diyas and making colorful floor designs. However, let us give you a gist about the Festival of Lights and an essential guide to approach it.
Happy Diwali 2020: What is Diwali?
Diwali, the Festival of Lights, extends to be a five-day-long festival in a year and traces its existence from the world's enriched past. What is the significance behind it? Well, Diwali's lights tend to take over the darkness of the night, just like the truth takes over the evil through the way of enlightenment.
Historical Importance of Diwali
Diwali's historical importance and existence go back to Ramayana when Lord Rama, with his wife Sita, returned to Ayodhya after defeating Raavana. While the particular significance is followed in North India, South India has a different tale to narrate by defeating the demon's evil forces, Narakasura. The festival in the South takes place for one-day-only and is famous by the name "Deepavali."
The festival has an optimistic approach for businesses and merchants, as it is known to bring future prosperity. Thus, the idols of Goddess Laxmi and Lord Ganesha are also worshipped together.
Why is Diwali Celebrated?
To quote by the historical connotation, the initiation of Diwali or the Festival of Lights dates back to the return of Lord Rama and Sita from their forest exile by winning over the evil forces of Raavan. The particular historical fact signifies nothing but how the truth took over the evil and finally defeated it. The five-day festival comes as an ode to the Lord figures, Rama and Sita that celebrates the positive energy and belief that truth can conquer all. The lighting of the diyas has a significant meaning, which is to pave a path of enlightenment from darkness or evil.
When is Diwali Celebrated?
Based on the Hindu Lunar Calendar, Diwali is usually celebrated in India during October and November. In 2020, to go by the moon's movement, the festival will begin on November 12 with Dhanteras and finally be celebrated till November 16. Among the five days, the third day is regarded as the most promising one, and most of the festive rituals take place on this day. This year, due to the moon's overlapping, Deepavali will also be celebrated on the third day of Diwali, November 14th.
Where is Diwali Celebrated?
Bearing India's cultural and historical essence, it is needless to say that Diwali happens to be one of the largest and most enriched celebrations. Though the rituals and customs may vary from one state of India to another, the celebrations occur throughout the country. While the festive mood is more pumped-up in North India, the celebrations aren't prevalent in South India.
Where to Visit During Diwali?
Now that we have told you about the festival of Diwali and where it takes place, we will now tell you about the places to visit during this Diwali. We will give you some options to choose from where the Festival of Lights is celebrated with pomp and fervor.
1. Varanasi
If you are up to celebrate a spiritual Diwali this year, head to the ghats of Varanasi and witness the exemplary sight of Ganga Aarti. The city gets on to its exquisite beauty during the nights of Diwali. The rituals, devotional hymns, and picturesque views filled with lights further enhance the soul and brims it with spiritual fervor.
If you are planning to stay for more than two weeks after Diwali, you may witness the grand procession of Dev Deepavali led by a parade through the streets.
2. Jaipur
The Pink City of India hardly has any competition for authentic and aesthetic beauty, and when it's Diwali, the beauty tends to double-up. Public buildings, houses, offices are decorated with lights, enhancing the Diwali night's beauty. You can also go to the palaces and forts to enjoy an exotic view of the city.
Jaipur's markets are at their best during Diwali and give you a chance to horde everything you ever dreamt of purchasing. Even for the photographers, the marketplace happens to be the ideal area to get some unmatchable clicks.
3. Kolkata
While the rest of India worships Goddess Lakshmi on Diwali, the Bengalis do it by worshiping Goddess Kali and is thus called Kali Puja. Though the concept is the same, the rituals and customs happen to be different. So if you want to witness those rituals up front, then a visit to Kolkata during Diwali is a must.
Moreover, who can let go of the excitement to enjoy pandal hoppings and delving into some delicious street foods? Nobody!
4. Goa
Goa and religiosity might not go side by side, but the Festival of Lights gets festive here. The pristine sand beaches and seashores give you ample scope to enjoy a beach Diwali. The fascinating things are the crackers, which make unique patterns up in the sky.
Indeed, it will be a lifetime experience with the starlights showing you the path and beachside food aroma taking over your soul.
5. Amritsar
Have you ever witnessed Diwali in a Sikh style? If not, now is the chance to do so by visiting Amritsar. Though the city is predominant with the Hindu population, it doesn't hinder the Diwali celebration.
The stunning Golden Temple and other structural monuments lit up on the night of Diwali and make the lake glimmer with lightning shadows.
Who Celebrates Diwali?
Though initially came into existence as a Hindu festival, Diwali eventually catered to the mass of the multilingual country, India. Now, Diwali is celebrated by all, be it the Sikhs or the Jains, and even some Muslims. There are other festivals of the Sikhs and Jains as well that collide with the festivity.
See Also: Merry Christmas 2020 Images
What Do People Do During Diwali?
Just like the people outside India go gaa-gaa over Christmas, similarly, the Indians can hardly subdue their Diwali excitement. During the five festive days, they indulge in several celebrations that promote harmony in relationships and encourage love and compassion.
1. Buy New Clothes
Without shopping, Diwali hardly feels like Diwali. Not only do the roads remain crowded with discount hoardings, but online shopping sites keep bursting with discounts and offers.
2. Exchange of Gifts
Diwali isn't Diwali without the custom of Diwali gifts with a hug. Be a child-parent, husband-wife, or grandfather-granddaughter, or just neighbors, giving away and receiving gifts stands as a symbol of love and support towards each other.
3. Eat and Exchange Sweets
Indians can hardly call a festival "the festival" without adding sweets. From offering it to the Gods to providing it to the neighbors, sweets are everywhere. Several sweet shops and online gift sites also come up with customized sweet hampers only for Diwali.
4. Drawing Rangolis
Festivities in India are incomplete without drawing Rangolis. During the five days of Diwali, you will find a colorful rangoli, more significant or small, in every house.
5. Lighting Diyas and Candles
No matter how modern we have become by inventing artificial lights, Diwali's true essence lies in lighting the candles and diyas in the house. It makes us stay close to our roots and helps us value our country's creators' hard work and efforts.
Diwali Amidst Covid-19
However, Diwali 2020 wouldn't be the same anymore, with the threat of Covid-19 lingering all around us. Although this year might be different, and there are many dos and don'ts, we can still preserve the celebration's ambiance. Wondering how? Head down below.
1. Give Everyone a Virtual Hug
Make online groups for celebrating Diwali – be it the colleagues, the family, or just a group of neighbors. Wish everyone Diwali, exchange virtual hugs, send Diwali decorations' images, and feel close to each other.
2. Send Diwali Gifts Online
To set the right mood for Diwali, exchanging gifts is essential. So why not opt for the online shopping sites to bring a smile to your dear ones' faces?
3. Indulge in Family Activity
You may have a family of two or a family of eight, or you may be your family – that hardly matters. Whatever it is, indulge in some activity, be it cooking, or DIY, watch a movie at home, and spend some quality time that you hardly get.
Do's And Dont's for Diwali Amidst Covid-19
Dos'
Prefer sending online gifts and hampers.
Do connect with everyone online.
Do light up diyas and candles in the house.
Try to do some donations online for the BPL category mass.
Don'ts
Don't burst crackers or fire anything that results in a deadly gas explosion.
Don't hug your relatives and neighbors during Diwali.
Don't torment or disturb the stray animals with crackers.
Don't go out without wearing a mask.
Don't keep sanitizers near the already lit diyas and candles.
Now that we have given you a thorough and essential guide about Diwali, it is now time for you to go ahead
And celebrate a happy and safe Diwali with your family and friends!