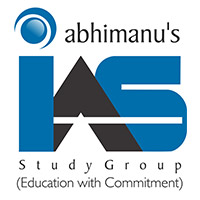 Abhimanu IAS Coaching
Abhimanu IAS Coaching is a renowned coaching class for the applicants making preparations for IAS (Civil Services) Exam. It gives sustainable study material, excellent tutions on each topic. The faculties here are well versed in educating students on any topic that will appear in the IAS Exam. Simultaneously, the team here keeps a note of all changing pattern in the exam. This helps teachers and students to take an account of all the changes and thee right way to carry on the studies. For students who are willing to know more, can visit the website given below:
Chandigarh Dainik Bhaskar Building, IInd Floor, Sector -25 D, Chandigarh
"Test Portal"
"Online Test Series"
"Offline Test Series"
"Weekly Quiz"
"Weekly Current Affairs"
"Interview Resources "
1
Lorem Ipsum is simply dummy text of the printing and typesetting industry. Lorem Ipsum has been the industry's standard dummy text ever since the 1500s, when an unknown printer took a galley of type and scrambled it to make a type specimen book. It has survived not only five centuries,
Jun Tue, 2020 06:40:33am
2
Lorem Ipsum is simply dummy text of the printing and typesetting industry. Lorem Ipsum has been the industry's standard dummy text ever since the 1500s, when an unknown printer took a galley of type and scrambled it to make a type specimen book. It has survived not only five centuries,
Jun Tue, 2020 06:32:47am
Thank You