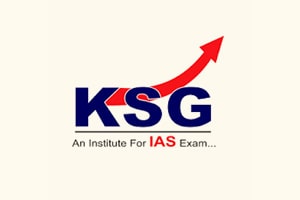 Khan Study Group
Khan Study Group is abbreviated as KSG and is among the Top-Notch IAS Coaching Insitute in Jaipur. It is run in the guidance of Dr. Khan of Delhi. It usually maintains a batch size of 100 students in the coaching center. The applicants can get details of the next batch from the website or can visit the institute. For the last three 3 years, It has come out as an emerging star. It has given 10 candidates as IAS Officer for the civil services result in 2018. Also, the institute offers a wide pattern for studying GS.
Delhi 2521, Hudson Lane, Vijay Nagar, Near G.T.B. Metro Station, New Delhi, Delhi 110009.
Jaipur 403-404, Apex Tower, Lal Kothi, Tonk Road Jaipur 15
Chandigarh SCO.216, 2nd Floor, Sector 36-D, Sector 36, Chandigarh, 160036
"IAS (GS+CSAT)"
"IAS (Prelims+ Mains)"
"IAS (Prelims+Mains+Interview)"
"Only GS: 1,37,000"
"CSAT: 1,47,000"
"Prelims Test Series "
"Mains Test Series"
"Integrated Test Series"
"Current Affairs Test Series"
"Study Material for GS"
"Mock Tests"
"Books for Prelims & Mains "
1
Lorem Ipsum is simply dummy text of the printing and typesetting industry. Lorem Ipsum has been the industry's standard dummy text ever since the 1500s, when an unknown printer took a galley of type and scrambled it to make a type specimen book. It has survived not only five centuries,
Jun Tue, 2020 06:40:33am
2
Lorem Ipsum is simply dummy text of the printing and typesetting industry. Lorem Ipsum has been the industry's standard dummy text ever since the 1500s, when an unknown printer took a galley of type and scrambled it to make a type specimen book. It has survived not only five centuries,
Jun Tue, 2020 06:32:47am
Thank You