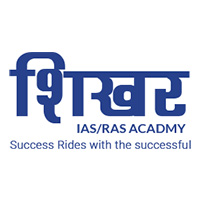 Shikhar IAS Academy
Shikhar IAS Academy is among the pioneer coaching institute in Ghaziabad. The coaching delivers coaching for various examinations like IAS, UPSC CDS, NDA, and other popular exams. It sets the base and takes the students to the advanced level. The coaching gives printed notes to the applicants for revising the courses. Again it takes a mock test to examine the caliber of the applicant for the IAS Exam.
Ghaziabad E171 SHASTRI NAGAR, Near Nehru World School NWS, Ghaziabad, Uttar Pradesh 201002
"IAS"
"UPSC CDS"
"Banking "
"Mock Test"
"Offline Test Series"
"e-books"
"Printed Notes"
"Classroom Sessions"
1
Lorem Ipsum is simply dummy text of the printing and typesetting industry. Lorem Ipsum has been the industry's standard dummy text ever since the 1500s, when an unknown printer took a galley of type and scrambled it to make a type specimen book. It has survived not only five centuries,
Jun Tue, 2020 06:40:33am
2
Lorem Ipsum is simply dummy text of the printing and typesetting industry. Lorem Ipsum has been the industry's standard dummy text ever since the 1500s, when an unknown printer took a galley of type and scrambled it to make a type specimen book. It has survived not only five centuries,
Jun Tue, 2020 06:32:47am
Thank You