CGPSC Syllabus-Exam Pattern 2020 Download for 32 Civil Judge Vacancy @psc.cg.gov.in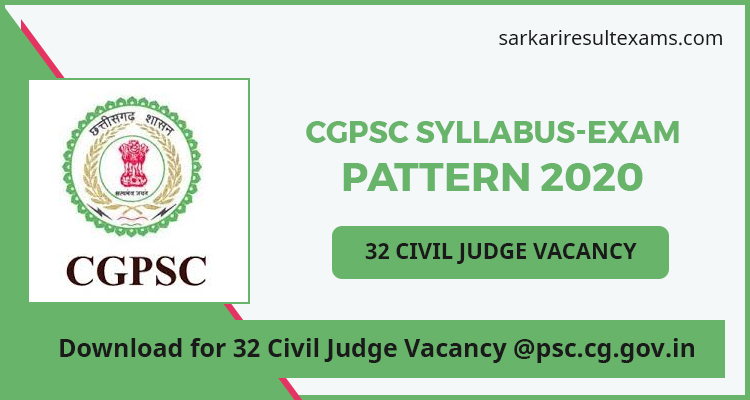 Looking for CGPSC Syllabus for Civil Judge Exam? If yes, you are reading the right page. Chhattisgarh Public Service Commission has recently announced CGPSC Civil Judge Syllabus 2020. The hiring will be done on 32 vacant posts of cgpsc recruitment 2020. There will be a preliminary exam to conduct scrutiny of the most deserving candidates. After this, the candidates will appear for the Mains exam. Furthermore details about the Chhattisgarh PSC Syllabus Pdf is available below. 
Department has also announced pre exam dates on the official site. The Preliminary Exam will be organized on 17th May 2020 at 03 centers. Applicants can collect the cgpsc syllabus pdf 2020 & other sarkari naukri details from the mobile application Rattu Tota through the given below QR code:

CGPSC Syllabus-Exam Pattern 2020 Details 
Department: Chhattisgarh Public Service Commission
Short Form: CGPSC/ Chhattisgarh PSC
Total Post: 32 Jobs
Post Name: Civil Judge
Mode of Exam: Computer Based (Online) Test
Tentative date of pre exam: 17th May 2020
Download CGPSC Syllabus Pdf: Available Now
Official Website: psc.cg.gov.in 
General Details For CGPSC Civil Judge Exam 2020
The online form submission for chhattisgarh psc vacancy will be starting from 04th March 2020. Closing date to apply for the CGPSC Civil Judge Examination will be 02.04.2020. It is necessary that you complete the registration process before the due date, otherwise, you can not appear in the cgpsc exam. 
Also the department has uploaded the complete cgpsc syllabus-exam pattern 2020 in the notification pdf. Students are advised to download the notification pdf to get details about the exam scheme for cgpsc civil judge exam 2020. 
What is the Selection Criteria for CGPSC Civil Judge Vacancy?
The participants will be selected on the basis of the Preliminary & Mains Exam. CGPSC will make the final selections on the basis of Viva voce. The prelims exam will be a screening test and will be held in May 2020. 
Simultaneously, the Mains will be the deciding exam and dates will be announced later on. It is necessary to qualify in the Prelims Exam for Civil Judge jobs as this is the entry ticket for Mains Test. CGPSC Civil Judge Pre Exam will be organized into online mode at 03 cities. 
Preliminary Exam: 17.05.2020 (Bilaspur, Durg-Bhilai, Raipur) 

Mains Exam: (Bilaspur, Raipur) 

Viva-Voce:
Check CGPSC Civil Judge Exam Pattern 2020 for Prelims & Mains 
Chhattisgarh PSC Pre Exam Pattern 2020 
The preliminary exam will have 100 questions. Duration to solve the question paper will be 2 hour. Marks for the cgpsc civil judge pre exam would be 100. Participants can read more details from given below head: 
The question paper will have Objective type questions. 

Paper will be set into both language i.e. English & Hindi.

Marksheet of prelims will not be provided. 

Its marks will also not be considered for final selection. 

It is only qualifying in nature. 
CGPSC Civil Judge Mains Exam Pattern 2020 
The applicants who will qualify the prelims will appear in the Mains exam. Participants will appear in the ratio 1:10 in the mains exam. The mains exam will comprise of the following topics: 
Framing of issues and writing of Judgement in CivU Cases: 40 Marks 

Framing of charges and writing of Judgement in Criminal Cases: 40 Marks 

Translation: 20 Marks (both language)
Civil Judge Viva-Voce 2020 Pattern
The final selection is based on the marks obtained in the Viva-Voce & Mains exam. Viva will be held for 15 marks. UR category must secure 33% marks in viva whereas the Reserved category must secure 25% marks. Furthermore details are available in the cgpsc syllabus pdf available in the official links below. 
What Topics Are Covered Under CGPSC Civil Judge Syllabus 2020?
CGPSC Prelims Exam Syllabus 2020
Indian Postal Code.

Code of Civil Procedure.

Code of Criminal Procedure.

Indian Evidence Act.

Constitution of India.

Transfer of Property Act.

Contract Act.

Limitation Act.

The Chhattisgarh Rent Contract Act, 2011

Court Fees Act.

Specific Relief Act.

Registration Act.

Chhattisgarh Land Revenue Code.

The Negotiable Instruments Act, 1881

The Chhattisgarh Excise Act, 1915
CGPSC Syllabus for Mains Exam 2020 
Paper I (General Studies):
Environment

Indian Economy

History of India and Indian National Movement

Physical, Social & Economic Geography of India

Constitution of India & Polity.

Current Affairs & Sports.

General Science & Technology.

Indian Philosophy, Art, Literature & Culture.
GK of Chhattisgarh CGPSC Exam Syllabus 2020:
Administrative Structure, Local Government, and Panchayatiraj of Chhattisgarh

History of Chhattisgarh, & Contribution of Chhattisgarh in the Freedom Movement

Current Affairs of Chhattisgarh

Economy, Forest, and Agriculture of Chhattisgarh

Geography, Climate, Physical status, Census, Archeological and Tourist Centers of Chhattisgarh

Tribes, Special Traditions, Teej and Festivals of Chhattisgarh.

Literature, Music, Dance, Art and Culture, Idioms and Proverbs, Puzzle/Riddle, Singing of Chhattisgarh

Industry in Chhattisgarh, Energy, Water and Mineral Resource of Chhattisgarh.
CGPSC Syllabus 2020 for Paper II (Aptitude Test):
Logical reasoning and analytical ability

Knowledge of Hindi Language

Basic numeracy (numbers and their relations, orders of magnitude, etc

Knowledge of Chhattisgarhi Language.

Interpersonal skills including Communication Skills

General mental ability

Decision-making and problem-solving.

Data interpretation (charts, graphs, tables, data sufficiency, etc.

The knowledge of Hindi Language and Chhattisgarhi Language will be tested in Hindi and Chhattisgarhi language only, no translations will be provided. 
How to Download CGPSC Civil Judge Exam Syllabus 2020?
Firstly, login to the official website i.e. psc.cg.gov.in

On the homepage you need to take out the cgpsc civil judge notification pdf. 

In this pdf you will find the complete details of the selection process, exam pattern, etc. 

Read all the details and then give print out or save cgpsc exam syllabus. 
Important Links for CGPSC Civil Judge Syllabus 2020:
Download CGPSC Exam Syllabus 2020 
Frequently Asked Questions for CGPSC Chhattisgarh Syllabus 2020 
What is the Nature of Preliminary Exam?
The prelims will be organized on 17.05.2020 and will be qualifying in nature. 
How to Download CGPSC Syllabus 2020?
You can download chhattisgarh psc syllabus from the official website psc.cg.gov.in. 
CGPSC Exam Syllabus 2020 for 32 Civil Judge positions. Exam will be held on 17.05.2020. Applicants can download their chhattisgarh psc syllabus from the official links.