Delhi Police Syllabus 2021 – Delhi Police Constable Exam Pattern @delhipolice.nic.in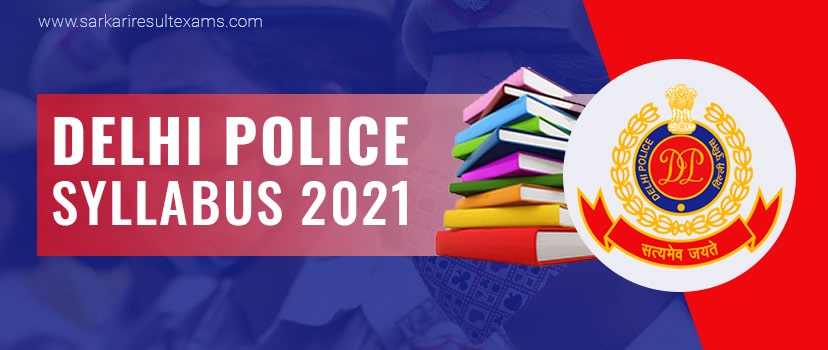 Delhi Police Department is recruiting applicants for Police Constable positions. The selections on these posts will be carried out via Written Exam (CBT), Physical Test, Trade Test, and CPT. Applicants who wish to appear should download Delhi Police Syllabus 2021. The document contains the details about the selection process given here. Complete exam scheme like passing marks, negative marking (if any), etc. has been discussed well. 
Participants who are looking forward for delhi police jobs can download the syllabus-exam pattern pdf from here. The date of exam and other activities are not yet uploaded on the official website. But soon the department will provide the details over delhipolice.nic.in. Till then you must complete your registrations and then start your preparation with delhi police head constable syllabus 2021. 
Delhi Police Constable Exam 2021 Overview 
Department: Police Department, Delhi
Exam Name: Delhi Police Constable Exam 2021 
Nature of Exam: Computer Based Test (CBT)
Post Name: Constable (Head/General Duty)
Number of Stages: Online Test, Physical, Trade Test, CPT
Tentative dates of exam: June-July 2021 
Availability of Delhi Police Syllabus: Available Now
Official website: delhipolice.nic.in 
Delhi Police Exam Syllabus has been released for Constable jobs. The hirings of head constables will be carried out as Assistant Wireless Operator (AWO) or Tele-printer operator positions. The level of the vacancies will be Group C and selections will be conducted accordingly. 
When to complete registrations for Delhi Police Exam 2021?
The applicants should submit online forms to appear in the selection process. Online registrations for Constable posts will be held between March to April 2021. Candidate who completes the registrations before the due time can appear in the delhi police exam 2021. 
What are the Selections Stages for Delhi Police Constable Vacancy?
The selections will be conducted to provide appointments on Head Constable (HC) jobs. Vacancies are available for both male & female applicants. Candidates who wish to earn this job should follow the criteria given below: 
Computer Based Test: Online Exam

Physical rounds: Endurance & Measurement 

Trade Test: Reading & Dictation 

Computer Proficiency Test: Word Processing, Basic Computer Function 

Final Result 
This is the overall process in which the entire selections are to be carried out. Participants have to qualify each round to get selection over head constable posts. Furthermore information like delhi police exam pattern and other details indicated below.
Check Delhi Police Exam Pattern 2021 @delhipolice.nic.in 
Participants here can check the exam pattern for HC jobs. Firstly, you will get to know about the delhi police exam scheme 2021. In this exam, there will be no negative marking. Paper will be set into both languages i.e. Hindi & English only. 
There will be 5 sections.

Paper will have 100 questions for 100 marks.

Duration to solve this online test is 90 minutes.
Subject

 

Questions

 

Max. Marks

 

Duration

General Awareness

20

20

90 Min

 

General Science

25

25

Mathematics

25

25

Reasoning 

20

20

Computer 

10

10

Total

 

100
100
Delhi Police Physical Scheme 2021
The physical rounds involves Endurance Test (qualifying in nature). It will be organized for both male and female category. Criteria women will be different as of that to men. Below are the details of the physical endurance test (PET). 
It will be qualifying in nature.

The PET will be organized once the applicants qualifies the CBT.

After this the selected applicants will appear in the PST. 
For Male:
Age
Race 1600 Meters

 

Long Jump
High Jump

Upto 30 Years

07 Min

12½ Feet (12'6")

3½ feet (3'6")

Above 30 to 40 Years

08 Min

11½ Feet (11'6")

3¼ feet (3'3")

Above 40 Years

09 Min

10½ Feet (10'6")

3 Feet
For Female:
Age
Race 800 Meters

 

Long Jump
High Jump

Upto 30 Years

05 Min

9 Feet 

3 feet

Above 30 to 40 Years

06 Min

8 Feet

2½ feet (2'6")

Above 40 Years

07 Min

7 Feet

2¼ feet (2'3")
Check Physical Standard Test:
Male Applicants: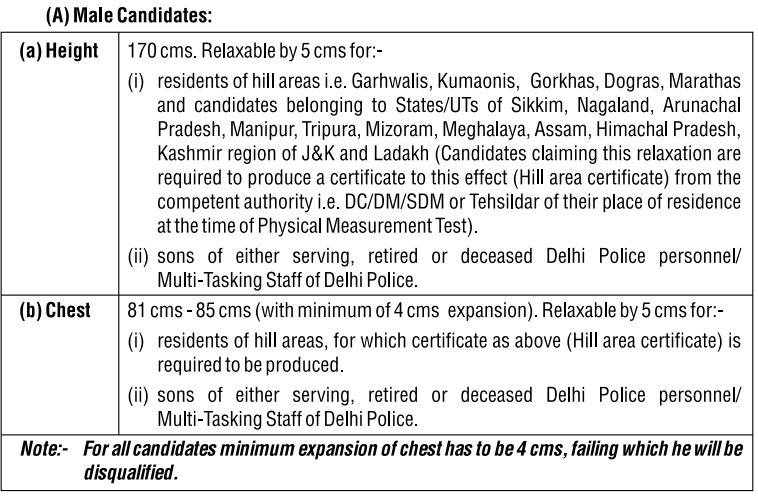 Female Applicants: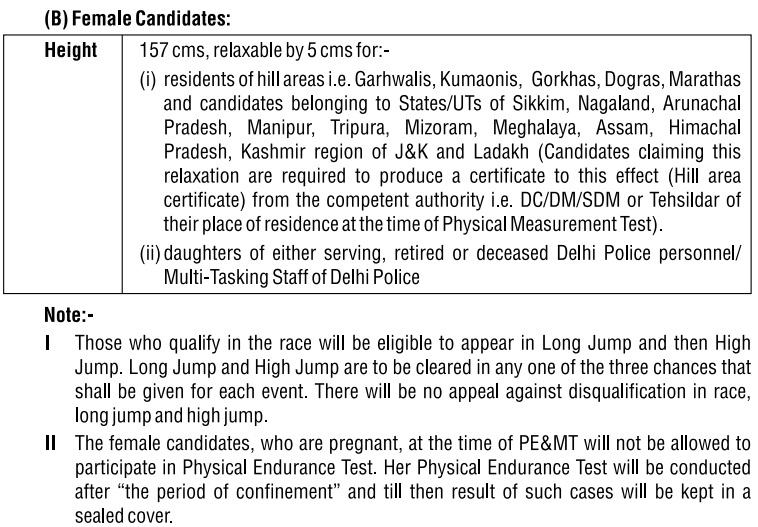 Delhi Police Syllabus for Computer Proficiency Test (CPT):
The candidates will be then put onto CPT which includes word processing speed test. It should be of 1000 key depressions in 15 minutes and will be conducted on computer. The applicants will be provided 200 words for basic test. Selections are totally depends upon the correct entries and key depression. You can collect more details from the official delhi police exam syllabus pdf 2021. 
What is the Delhi Police Syllabus for Head Constable Jobs?
The applicants who wish to participate in the delhi police examination must download the syllabus pdf. The exam pattern contains the subjects and delhi police head constable syllabus contains the topics to study. Participants who are looking for jobs should check the details given below:
Delhi Police Exam Syllabus for General Awareness:
Current Affairs like Sports, Technology, Books and Authors, Awards, National and International Events, Defence, Summits, etc

Environment

Art and Culture

India and its neighbouring countries

Sports

History

Geography

Indian Economy

General Polity

Indian Constitution

Scientific Research
Delhi Police Head Constable Syllabus for General Science:
Physics:
Newton's Law

Thermodynamics

Mechanics

Gravity

Motion

Units of Measurement

Pressure

Heat & Temperature

Sound

Magnetism

Electronics

Ohm's Law

Number System

Fiber Optics

Communication mode
Chemistry:
Everyday Life Chemistry

Chemicals and Their Applications

Catalyst

Chemical and Physical Change

Reactions

Acid

Atomic Numbers

Elements and their Symbols

Electro-Chemistry

Definition Based Questions
Delhi Police Exam Syllabus for Mathematics:
Number System

Simplification

Percentage

Ratio & Proportion

Roots & Cube

Simple & Compound Interest

Average

Profit & Loss

Discount

Partnership

Mixture & Alligation

Time and Distance

Time and Work

Algebra

Geometry

Area and Volume

Mensuration

Trigonometry

Data Interpretation

Sequence and Series

Permutation & Combination (P&C)
Delhi Police HC Syllabus for Reasoning:
Analogy

Symbolic Operations

Logical Reasoning

Figural Analogy

Alphanumeric Series

Space Orientation

Semantic Classification

Venn Diagrams

Critical Thinking

Blood Relation

Drawing

Table

Punched hole/ pattern-folding & unfolding

Direction/Ranking Test

Number Series

Problem Solving

Word Building

Inequalities

Syllogisms

Coding and De-coding

Input-Output

Seating Arrangements

Data Sufficiency
Delhi Police Syllabus for Computer Knowledge:
Computer Fundamentals

MS Excel

MS Word

Communication

Internet

WWW & Web Browsers
How to Download Delhi Police Syllabus 2021?
Candidates who wish to download delhi police head constable syllabus 2021 should check the official links given below. These links will help you to directly download the delhi police online test syllabus pdf 2021. 
Official Links to download Delhi Police HC Syllabus 2021:
Download Delhi Police HC Exam Syllabus 2021
Check for Delhi Police Notification 2021 
FAQ: Frequently Asked Question 
What is the Exam Date for Delhi Police Constable Jobs 2021?
The examination date will be notified soon on the official website. 
What are the Minimum Passing Marks?
The minimum passing marks are described in the delhi police syllabus pdf 2020. 
Delhi Police Exam Syllabus 2021 for Constable Jobs.  The examination will be held in June-July 2021. Applicants can check delhi police hc exam syllabus from the official links given above