IBPS PO 2020 Preparation – "How to Conduct Studies For IBPS Bank PO Exam"?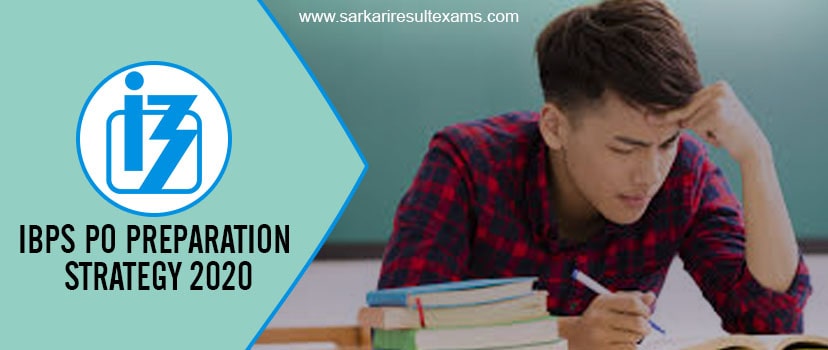 Everybody who is up for the studies of IBPS PO Exam must pay attention. Here we are going to disclose you the best possible ways to make IBPS PO 2020 Preparations. Firstly the department has rolled out 1417 vacancies. The vacancy count this year is slightly low in terms of the previous year. 
As the notification has released before the expected date, hence the applicant has around 70 days to prepare for Prelims Exam. Therefore, you need to have a good IBPS PO Preparation Strategy 2020. To do so, we are here to help you out.  
You may ask any query in the Comment section given below. Our team will revert as soon as possible. Hence keep on commenting in the place provide just after this article. 
What Details Article Offering You?
In this article you will get the best material for IBPS PO 2020 Preparations. This will give you a new direction towards studies and a better strategy to crack IBPS PO 2020 Exam. So, let us get started. 
Introduction to IBPS PO Exam

Content of the test

Mode of exam

Time management 

Pattern & Scoring

Tricks & Tips

Best Books, Previous Year Paper Links

Complete Strategy etc. 
IBPS PO 2020 Exam Details
Institute of banking personnel selection is holding the IBPS PO Exam. The online test will held on 1417 vacancies. Candidates may apply for Probationary Officer (PO), Management Trainee (MT) Jobs. 
The online form submission is being started from 05.08.2020. Closing date to submit the fully filled application forms will be 26.08.2020. Payment and other modification has to be done within this time frame only. Those who successfully submits the application forms must start their ibps po preparations 2020 from now onwards.
IBPS Clerk 2020 notification is also coming in a few days over the official website. Candidates may apply online and download ibps clerk syllabus from here. 
What is the Selection Process? What is the No. of Stages?
Now the plan for the IBPS PO 2020 Preparations starts from here. Each and every candidate must be aware of the rounds of selections in IBPS PO 2020 Examination. Following the previous year trends, there will be Prelims, Mains & Personal Interviews. 
Preliminary (Prelims/Pre): Qualifying Nature

Mains: Final Selection/Deciding Part

Personal Interview: Final Selection/Deciding Part
If you see here, "Prelims" will be of qualifying nature. It means you need to qualify it for appearing in Mains Exam only. Marks of this exam will not be taken for final selections. You have to clear the sectional cut off and category wise cut off only. 
Then comes the "Mains" exam. It will be deciding part as in marks of this section will be taken for final selections. Thus, participants who qualifies prelims should get more focus in studies for Mains Exam. For mains exam you need to take your ibps po preparations 2020 to one step forward.
Candidates who are from engineering stream may also apply for GATE 2020 Examination. The details are out now. You may fill up the forms by following the official links.
The final part will be "Personal Interview". It will be held for those who qualifies the Mains exam. Here you will be tested upon your mental presence, body language, etc. Also your documents such that educational certificates, your call letters for Prelims & Mains can be checked. 
IBPS PO Prelims Exam Pattern 2020 
At first, the department will organize Preliminary Exam. It will be organized for 01 hour (60 minutes) only. You should be very quick in marking the accurate answers. Further the ibps po 2020 preparation is discussed below:

Now as we can see, there are 03 prominent subjects i.e. English, Reasoning & Quantitative Aptitude. We would like to mention that IBPS PO is the most difficult exam among all ibps' exams. Difficult as in you need to be 100% accurate for answering. Shortlisting is not that easy. 
There will be 30 questions from English which should get solved within 20 minutes. Then it will be Reasoning with 35 questions. Here you need to be quick as well as accurate. You must have those tricks to solve the question within 10-20 seconds.
Apply for other banks exam also like SBI Recruitment for Specialist Officer Jobs, You may also apply for Nainital Bank Jobs  from here.
Last but not the least Quantitative Aptitude. This is the time consuming section and applicant most of the time stucks in this section. The subject is both scoring and negative scoring. According to the reviews of the students, quant subject faces maximum negative scoring as well as good scoring. The part includes 35 questions which is to be solved within 20 min only. Thus you must continue your IBPS PO 2020 Preparations by considering the information given here. 
IBPS PO Mains Exam Pattern 2020
This is the most important part as marks of the Mains exam will be taken for final merits. There will be 4 subject with 01 descriptive subject. Total questions will be 155 with maximum marks of 200. Duration to solve the Mains paper will be 03 hours and it will be held in online mode only. 

The complete exam pattern is described below and moving further we are going to discuss the strategy to Crack IBPS PO Prelims & Mains Exam 2020.
Strategy for IBPS PO
2020
Preparations  
Prepare Your Strategy Or Follow Others
Now after getting the complete scheme, you need to follow a particular strategy. If you are a newbie then you should follow the guidelines available on the Internet. As you need to first understand your weak as well as plus points. 
The experience one can make their own strategy that which subject to give 01st priority. Improving the weak points and practicing more. But for newbie they need to first clear their concepts, understand the weak points, practice more. 
Time Management
This is the key to success in IBPS PO 2020 Preparations. If you are capable enough to maintain speed then surely you will be good to go. Each section in prelims exam is to be solved in 20 minutes only.
According to the expert analysis, the question has to be solved within 10 to 20 seconds. Simultaneously, you need to be accurate enough so that you can save yourself from negative marking. 
Tips for IBPS PO Exam 2020 Preparations 
The only tip we can give both experienced and freshers is fight Mock Test. Solve as many questions as you can. Download previous year papers within a particular time frame. Keeps on checking the time in solving any question. 
Check your accuracy also and then keep on practicing the Mock Test, Previous Year Papers, etc. The details are available at our website Sarkari Result Exams.com.
Best Books & References for IBPS PO 2020 Preparations 
Here comes the point Which Book or Writer to Study for IBPS PO Online Test. You may follow Arihant Publications Book having complete IBPS PO Syllabus. The best source of information in my opinion is Internet today. 
You may also follow some best channels on youtube giving their best information on IBPS PO 2020 Preparations. 
Other Important Bank Jobs 2020:
IBPS PO Prelims Admit Card
Nainital Bank Syllabus 
IBPS RRB Admit Card 
Conclusion:
Start IBPS PO 2020 Preparations now for upcoming PO-MT CRP 10 Examination. You may ask any questions in the Comment section given below.