Download RSMSSB Librarian Syllabus 2019 – 700 Pustakalayadhyaksha (Librarian Gr 3) Exam Pattern
Do you want to check RSMSSB Librarian Syllabus 2019? If yes then here comes a very good news for you. Rajasthan Staff Selection Board, is ready to organize Librarian (पुस्तकालयाध्यक्ष) Gr 3 Exam 2019. The test will be organized in the offline mode in the coming months. Candidates who have filled up the applications can appear in the RSMSSB Librarian Examination. The Rajasthan Librarian Gr 3 Syllabus, Exam Pattern, Exam Cities, Selection Process, etc. are available in the offline links below. 
Fresh Update (02.01.2020): Dear applicants, RSMSSB Librarian Exam has been cancelled. It was supposed to be held on 29.12.2019 but now the department will release the exam date soon. Check more details here only.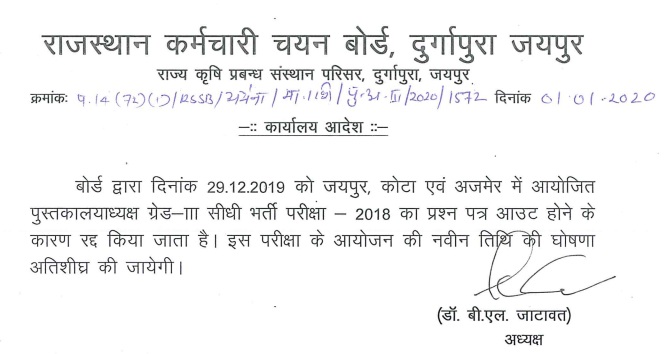 Fresh Update (06.12.2019): Dear applicant, Rajasthan Patwari Notification 2020 has been released on the official website. Candidates who wish to participate should check the details from the official links given below.
Fresh Update (08.11.2019): Dear applicants, RSMSSB Librarian Syllabus Pdf is available now for download. You should begin your preparations with the help of the document available at the end.
Details for RSMSSB Librarian Syllabus & Exam 2019-20
Organization: Rajasthan Staff Selection Board
Popularly Known As: RSMSSB
Mode of Exam: OMR Based (offline) Test
Total Posts: 700 vacancies
Post Name: Librarian (पुस्तकालयाध्यक्ष) Grade 3
Closing date to apply for rsmssb exam: 01.12.2019
Announcement of Exam Date: January 2020
Downloading of RSMSSB Librarian Syllabus-Exam Pattern: Available Now
Official Website: rsmssb.rajasthan.gov.in 
General Details for RSMSSB Librarian Exam Syllabus 2019 
The online registration process has been re-opened between 02.11.2019 to 01.12.2019. Candidates who did not make it to fill up the applications, can now fill up the rsmssb librarian application forms. Only the successfully registered applicants can appear in the Librarian (Gr 3) Test 2019. 
RSMSSB Librarian Syllabus Pdf is available with us. You can check the complete details like Selection Process, Marking Scheme, Exam Pattern, Exam Cities, Topic wise rsmssb librarian gr3 test syllabus 2019 etc. 
What is the Selection Process For RSMSSB Librarian Gr 3 Vacancy?
Participants as we all clearly knows that, it will be an OMR based offline test then you will have enough time to solve the paper. After the successful conduct of exam, there will be Document Verification process. 
The applicants at the time of Document Verification, need to produce the original certificates such as educational, caste, degree certificate, etc. all These will be verified and after it the applicants will get the appointment letter. 
How to Download the RSMSSB Librarian Syllabus-Exam Pattern 2019?
Now after discussing the RSMSSB Librarian Selection Process, we have exam pattern to discuss. The exam pattern comprise of the subject to study, marking scheme, etc. Applicants should check each and every detail carefully. 
RSMSSB Librarian Exam Pattern 2019:
Sr. no.
Parts

 

Marks

1.

Part A – General Knowledge

100

2.

Part B -Library and Information Science and Basic Knowledge of Computer

200
Some General Detail About RSMSSB Librarian Gr 3 Exam 2019:
Question paper will have Objective Type Multiple Choice Questions. 

The exam comprises of 300 Marks. 

It is necessary that applicants attain 40% marks. 

Duration to solve the exam will be 3:00 hours. 

Negative marking of ⅓ marks is applied on each wrong answer. 
Topic Wise RSMSSB Librarian Syllabus 2019 Download
General Knowledge RSMSSB Librarian Exam Syllabus Pdf:
Main Source of Rajasthan history

Main Prehistoric civilizations of Rajasthan.

Major dynasties and their accomplishments.

Mughal-Rajput relations.

Key features of architecture.

Important Forts, Monuments & Structures.

Religious Movement of Rajasthan and Folk god-goddess.

Main Handicraft, painting, styles of Rajasthan.

Rajasthani language works of literature Major regional languages.

Fair, festival, folk music, folk dance, musical instruments, jewelry.

Rajasthani Culture,Tradition and Heritage.

Important Historic tourism Palace.

Main Personality of Rajasthan.

Princely states of Rajasthan and British treaties, Mass movement of 1857

Farmers and public Revolution movement,and the movement Prjamandal.

Integral of Rajasthan.

Political Awareness of Rajasthan.
RSMSSB Librarian Gr 3 Syllabus for GK of Rajasthan:
Status and Expansion.

Main Physic Department – Desert region, Aravali Mountain region, planes.

Drainage system.

Soil.

Climate.

Natural vegetation.

Forest and Wildlife Conservation.

Environmental and ecological issues.

Desertification.

Agro-climatic and major crops.

Livestock.

Multipurpose projects.

Irrigation Projects.

water conservation

Transportation.

Minerals. 
Part B: Library Science & Basic Knowledge of Computer:
Foundation of Library & Information Science:
Concept of library, information and society

Information society

Library as a social institution

Types of libraries: Academic, Special and Public

National library of India

Five laws of library science and their implications

Concept of information literacy

Library movement in India

Library legislation

Library acts in India

Intellectual property rights and law

Censorship

Extension activities and public relation work

Role and activities of I.L.A.

IFLA and UNESCO and RRRLF

Library resource sharing. 
Library Classification and Cataloguing:
Definition, need,purpose and function

Notation: Types and qualities

Main features of Colon Classification and Dewey Decimal Classification Schemes

Principles of helpful sequence

General aspects of common isolates/standard sub-divisions

Devices used in C.C. and D.D.C

Steps in practical classification

Library Cataloguing: Definition, need, purpose and function

History of Classified Catalogue Code and Anglo American Cataloguing Rules

Kinds of entries: Main entry and added entries of Classified Catalogue Code

Kind of catalogue: Classified and dictionary

Physical and inner forms of catalogue

Subject cataloguing and chain procedure, OPAC. 
Library Organisation and Management:
General and scientific principles of management and  their implication to library administration,  

Function of administration,

Sections of a library: Acquisition section-Book selection

procedure and  accessioning

Technical processing section (Classification and  Cataloguing of books)

Periodical section

Circulation section: Newark and  Browne, 

Maintenance: Open access system

care and repair (binding)of books and  journals,

Stock rectification and verification

Library display, 

Library rules, 

Library statistics, 

Budgeting
Reference Service and Information Sources:
Reference and Information Services: Need and purpose

Ready reference service

Long range reference service

Initiation

Reference service in School and public library,

Organisation of reference department

Qualities of a reference librarian

CAS and SDI

Information Sources: Need and types: Primary, secondary and tertiary.
Basics of Computer for RSMSSB Librarian Syllabus 2019:
Introduction to computer-Characteristics, use, and types of computers

Computer generations, and computer architecture: Hardware, input and output devices

Software: Need, purpose and types, Operating system

Library software: Proprietary, Open source software

Role of library automation, Use of Internet in libraries

Electronic Resources: e-Books, e-Journals, databases. 
Download RSMSSB Librarian Syllabus 2019 Pdf:
Check RSMSSB Librarian Exam Syllabus 2019 
You May Also Like:
RSMSSB Supervisor Result 2019 
RSMSSB Librarian Syllabus 2019 for 700 Pustakalay Adhyaksh Jobs. Exam Date will declare soon. Check Librarian Gr 3 Syllabus-Exam Pattern Pdf from the official links given above.