Tips to Crack Rajasthan High Court Exam 2021 – 1760 Clerk (Grade 2) Exam Tricks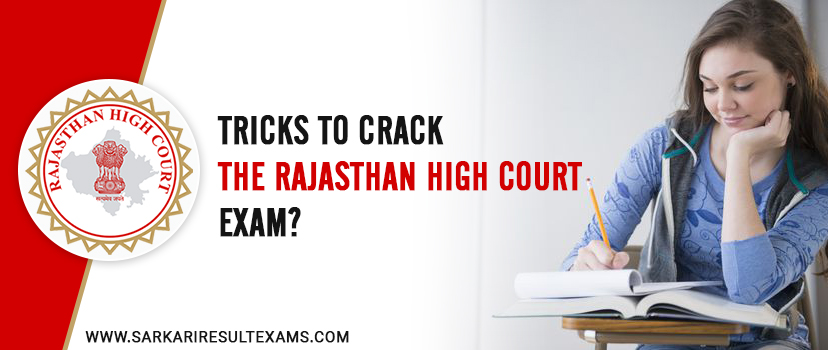 Looking for some Tricks to Crack the Rajasthan High Court Exam? If yes, then you are heading towards the right information. The online registration process for most awaited Clerk (Gr-2) vacancies has started now. The department will organize an offline test (OMR) based at the various centers on 1760 Clerk (gr II), Jr. Judicial Assistant (JJA) & Other posts. A candidate should know the Tips to Crack Rajasthan High Court Exam 2021. HCRAJ Syllabus 2021 Pdf is also updated but it is necessary to study smartly in case you want to have that 1 post secured in High Court.  
You must understand the exam pattern and then prepare a strategy accordingly. You might go with high court coachings but in this pandemic situation, it will not be enough. So here today, we are sharing a complete routine or study sequence to ensure your selection. You can also add your suggestions in the Comment section. By reading this guide, you will be able to crack the hcraj ldc exam 2021. 
Rajasthan High Court Clerk (Gr-2) Exam 2021 Overview
Organization 

High Court of Rajasthan 

Short Form 

HCRAJ

Name of the Exam 

Clerk (Grade-2) Exam 2021

Total Positions 

1760 vacancies 

Post Name 

Clerk, Jr. Judicial Assistant, Jr. Assistant

Mode of HCRAJ Exam

Offline (OMR Based) Test

Number of Stages 

Single Stage Selection Process 

Tentative Date of Exam 

April-May 2021 (expected)

Total Students Strength (Expected)

5-10 Lac (approx.) 

Question Paper Level 

Moderate to High (depends upon conditions)

Hope of Selection for Average Student 

Moderate 

Subjects to Study

Hindi, English, G.K (Rajasthan)

Total Questions 

50 MCQs

Total Marks 

300 (Grand Total)

Duration to solve the papers 

2 hours 

Plus Points of HCRAJ Clerk Exam 

No Negative Marking 

Minimum Passing Marks 

SC/ST & PH: 120




Other Category: 135

Official Website for more details 

hcraj.nic.in
Tips to Crack Rajasthan High Court Exam 2021



Firstly, you need to complete the online registrations for rajasthan high court recruitment 2021. It was lasted on 01.11.2020. After this, your applications will be scrutinized. The department will upload an application status, telling you about the acceptance of your application forms. If your status shows "accepted" you are good to go to start the preparations. 
The next tip is to read the rajasthan high court clerk syllabus 2021 properly. It will help you to understand the complete exam scheme. The examination scheme or pattern contains the subjects to study, total questions, total marks, duration, etc. details. 
You will also get to know about the qualifying marks and how the department will reach to final cut off marks? After getting all these details, it comes to preparation of strategy on the following points:
How to Study?

How to Manage Time?

How to Maintain Speed?

Which Subject to Cover First?

What is My Strength? 

What Are My Negative Points?
These are a few questions that you going to resolve during the preparation of the strategy. Once you have resolved all these, you are good to go for searching the tricks to apply in rajasthan high court exam 2021. 
Proven Tricks to Crack the Rajasthan High Court Exam 2021
Set Study Pattern:
Once you have gone through the entire exam scheme, list out the topics you going to cover first during studies. I suggested going with Rajasthan GK first. This general knowledge part will cover all the aspects and details of Rajasthan. It will include History, Geography, Culture, Politics, Traditions, etc. of the state. So cover this topic with others.
The syllabus is not that much to study if you give consistent time. In Hindi and English, you need to learn or read parts of sentences, synonyms, idioms, antonyms, paragraph writing, etc. topics. It will not take that much time as compared to Rajasthan GK. So GK and these two subjects should go hand in hand. 
Mapping the Time:
The next important step is to solve as many questions as you can with accuracy. This can be done with a time management strategy only. Although, the question paper is set into offline mode and duration is also 02 hours but you need to be quick in marking the answers with proper accuracy. 
There will be no negative marking but you need to be quick so that you can acquire the required passing marks to qualify the exam. Below we have shared the minimum scores you need to secure to qualify for the exam:
SC/ST & PH Category: 120/300

Other Category: 135/300
Learning Methods:
Do not go with the read and learn concepts. This method was expired ages ago. Now the time has come where you memorize things in a conceptual way or in the imaginary format. Draw an infographic of your notes or relate things that are easily connected with the topic. This will help you reminded about the topic easily and you will keep you updated for a long time. 
Notes Preparations:
Whenever you prepare your notes "Do Not Write in Para Formats". It is strictly prohibited in my opinion. Nobody wants to learn stories instead of short and sweet points. Keep your notes as short as you can but it contains the main information.  
Do not run out of the information. If there is lots of information, make 3-4 points of a single topic. So that you will not forget things and it will be easily recognized while during revisions. 
Revisions:
This is the most important part and it should be done before 30 days of the exam date. Yes, 30 days are sufficient to recollect the information, details you have read before. So if you make a point to point informative notes, it will become easy to grab and learn in the last days of the studies.
One more thing I suggest, be calm and relax prior to the day of the exam. If you don't want to study leave. Just remind one or two necessary topics and remain calm. This will help you in heaps for scoring the actual scores in the exam. 
Conclusion:
Here are the Tips to Crack the Rajasthan High Court Exam 2021. Any participant who is preparing for the exam can add their suggestions in the Comment section. Try these small tricks and get the highest scores in the HCRAJ Clerk Exam 2021.