Top IAS Coaching in Bangalore – List of Popular IAS Coaching Centers (Civil Services Preparations) 2023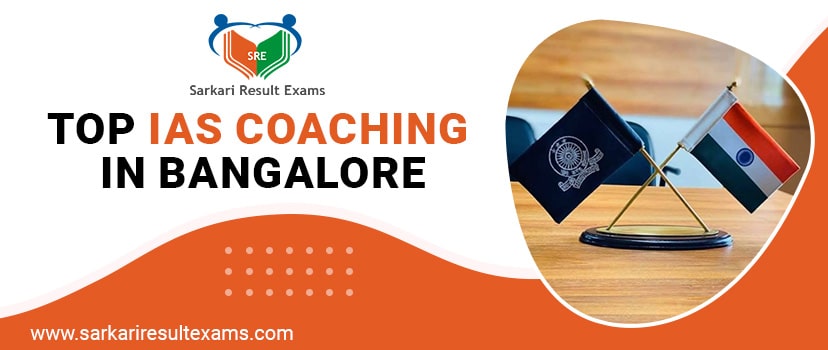 Civil Services is among the prestigious jobs and every candidate wants to be in the civil services of India. But to get into the services is not an easy task at all, It will take you all efforts. So for your quick and right preparations, here we have shared a list of Top IAS Coaching in Bangalore which will help you get closer to your dream. These coachings institutes have given their crucial years in getting the selection of the students on various civil services posts. Hence, we have prepared data of Top Coaching Centers for IAS Exam preparations. Read all the details and get in touch with the IAS Coaching Near You.
The coaching centers presented here have above 4 ratings and excellent student reviews. The faculties, study environment, study material, test series, etc. are some of the USPs which this coaching offers to the students. Fees are also a point that should be taken into consideration when going through these coaching. Installments and easy payment options are also offered to the students. 
Top IAS (Civil Services) Coaching in Bangalore 
Civil Services is the only examination that requires your dedication, full mental presence, and good health especially. The syllabus is so vast that people come in with depression or other health issues, so if you are going to prepare for Civil Services then you should be mentally and physically stable. For the rest of the things, read about the coachings given below: 
This is the best place for making preparations for SSC ,Banks & other big exams like IAS. This institution is known for its amazing faculties and exceptional study patterns. This coaching institute has spreaded its branches in many cities across India. It holds a very good batch size with highly qualified and experienced faculties.
"IAS Mains Program"
"Combo IAS program"
"SSC"
"Bank"
"1,50,000 + GST (Admission After test of 6th to 12th NCERT)"
"SSC – 15080 including GST"
"Bank – 11900 (Including GST)"
"Bank+SSC-18260 (including All Taxes)"
"Other Exam Fees- Depends upon the course"
"Weekly Test"
"Online Class"
"Online Test Series"
"Online Books"
"Weekly Test"
"Online Class"
Address:
Lucky Paradise, 2nd floor, 46, 8th F Main Road, 22nd Cross, 3rd, Block, Opp. ICICI Bank, Jayanagar, Bengaluru, Karnataka
The full form of the institute is Alternative Learning System (ALS). The coaching institute aims at delivering the most productive candidates to the Civil Services of India.
"G.S + Optional) for 1 yr: 2,05,000 & IAS optional subject"
"Online/ Offline Test Series"
"Class Notes, Booklets "
"Online or Offline Test Series "
Address:
St. Joseph's College Autonomous, 36, Langford Rd, Bheemanna Garden, Langford Gardens, Bengaluru, Karnataka - 560027
Byju's mainly known for its learning app was founded in the year 2011 by Byju Raveendran. Its headquarter is located in Bengaluru, India with 9000 employees working presently. It is the most successful venture that has crossed revenue of Rs ₹2,800 crore in this financial year 2020. The organization mainly focus on primary and high school education. Recently, it has launched its program for IAS preparing students. You can collect more details from the information given below:
"Class 1 to 5 Studies"
"Class 6 to 10th Studies"
"Sr. Secondary Courses"
"SSC, UPSC Exam"
"IAS Coachings"
"Rs 105000/- (10″ Tab)"
"Rs 97500/- (7″ Tab)"
"Video Classes"
"Online Test Series"
"Books"
"Free Pdf"
"Study Material"
Address:
Tavarekere Main Road, Opp: Forum Back Gate, Venkateshwara Layout, S.G. Palya, Bengaluru, Karnataka 560029
Another big name for making preparations for the IAS Exam " Shankar IAS Academy". This coaching in Delhi gives lessons on personality tests as well. It gives the best online notes, test series and provides the foundation course for IAS Exam 2020.
"Full IAS Course: 1,11,000 "
"IAS optional subject: 30,000"
"IAS Prelims Preparation Test Series"
"IAS Optional Preparation Test Series"
"Class Notes"
"Booklets"
"Online or Offline Test Series "
Address:
1707, Service Rd, Govindaraja Nagar Ward, Govindarajanagar, Vijaya Nagar, Bengaluru - 560040
Satya Narayan R is the founder of Career Launcher coaching institute. It is Asia's leading education provider to the law as well as management candidates. The founder himself is the IITian from Bangalore and known for its tremendous work in the field of education and business segment.  It has 146 branches approx. in 86 cities with approx. 50,066 students. It was founded 20 years back and its parent company is CL Educate. It offers various courses including Clat, Law, BBA, IPM, Bank, SSC, and Cat programs. If you wish to take admission into this coaching institute then check the table below:
"Banking"
"BBA/IPM"
"Law"
"MBA"
"CRT"
"SSC"
"RBI (Grade B)"
"NEET"
"CAT"
"1,500 to 60,000/- (course wise)"
"Test Series"
"Mock Test"
"Study Material"
"Well Maintained Notes"
"Study Material"
"Offline Test Series"
:
080-41505590, 7899727811, 80-40910606
Address:
1st Floor Venkataramu Arcade, No 96-E,16th Main Road Near Vijayanagar Police Station Service road Vijayanagar, Bangalore
Bharat IAS & Kas Coaching Institute is among the top coaching for banking exams. It has several branches across India. It is popular for its courses like IAS, KAS (Karnataka Administrative Service), SSC, Bank PO, etc. It has a track record of 8 years of coaching with approx 2000+ students. Its head office is located in the Bengaluru city followed by several branches across India. It has also invited guest faculties from Delhi and Hyderabad city for the best preparations of the students. If you want to get admission, then visit the details given below.
"KAS"
"IAS"
"Bank PO "
"SBI"
"SSC "
"IBPS PO/Clerk/SO/RRB: 8000"
"IBPS Package: 15000"
"Online Test Series"
"Offline Test Series"
"Mock Test"
"Current Affairs"
"Printed Note"
"Books,"
"Video Lectures"
:
+91 9901006910 / 8722941141
Address:
3rd Floor, Trinity Building, Opp. Shanti Sagar Hotel, R.T. Nagar, Bengaluru - 560 032
Back in the year 1953, Rau IAS Coaching Center was founded by Dr. S. Rau. Since then the coachings institute has never looked back and created history with many brilliant students.
"Foundation Course"
"Targeted Course"
"Interview Guidance"
"Optional Preparation"
"General Studies (Integrated) Program: Rs 1,75,500/-"
"Optional Subjects for Main Exam: Rs 50,500/- "
"Test Series & QIP (Pre 2020): Rs 14000/- (for new batch)"
"Admission Fee (Ex-Student): Rs 7000/-"
"Full Length Test Series "
"Current Affairs "
"Comprehensive Test Series "
"Mock Test "
"Online Video"
"Video Lectures "
"Notes "
:
88618 22955, 99160 35536
Batch Size:
80 to 90 (approx.)
Address:
AKS Plaza No 10, 2nd, Jyoti Nivas College Rd, 10 Industrial Layout, 5th Block, Koramangala, Bengaluru, Karnataka 560095
This is a leading coaching center in the list of Top IAS Coaching Centre in India. This institute gives smart tricks and tips to crack the upsc civil services exam 2020. It also offers distant learning, online coaching, etc. It has given many stars to the country like Tina Dabi (AIR 1), Nidhi Gupta (AIR 3), Sachin Gupta (AIR 3), etc. You can check the contact details, fee structure, etc. to collect more details of the coaching institute.
"IAS Prelims, Mains, Interview"
"DAF analysis session with senior faculties "
"Interaction with Previous toppers and Serving bureaucrats"
"Classroom Pre & Mains: 1,50,000"
"Online Classes: 1,40,000"
"Online & Classroom"
"UPSC Paper Solution"
"Talks & Interview "
"Topper Answer Sheet"
"Research & Analysis"
"Current Affairs "
"AIR News Analysis "
:
+91 9535944422, +91 7503016555
Address:
1/19,1st Floor, Nanjaiah Complex, 1st Main, Club Road, Vijayanagar, (landmark: Opposite Vijayanagar club) Bengaluru-560040